Establish a Scholarship
Throughout our history, Cowley College has been dedicated to providing an open-access education to students from all walks of life. We assist them in obtaining their degree through the generous gifts of people just like you who support our scholarship program.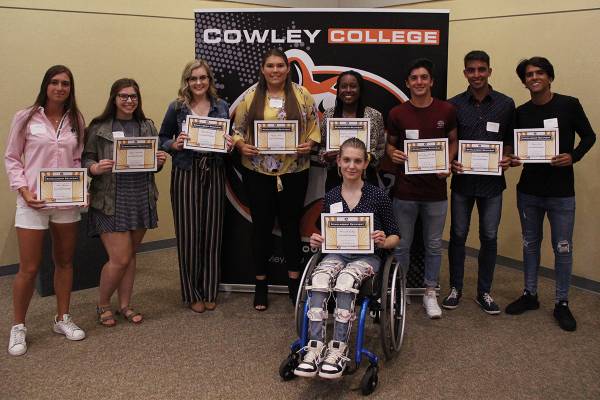 If you have considered establishing a scholarship for Cowley College students, there is no better time than now. With state and federal funding decreasing, we are asking our alumni, donors, and friends to consider supporting students through the gift of a scholarship.
By helping students rely less on student loans, they are better prepared financially to move to the next level, where they encounter even higher education costs. By establishing a scholarship with the Cowley College Foundation you have the opportunity to make a meaningful and tangible impact on the life of a student. Regardless of your reason for establishing a scholarship, we appreciate your support, and so do the students whose life you help change.
Scholarship Information
There are a few basic considerations you need to think about as you work with our office to create the scholarship. Please provide the information below and our office will contact you.
Scholarship Criteria – We will work with you to set the guidelines you would like to see used for your scholarship. They may include field of study, number of students to be awarded, dollar amount for each award, minimum grade point average, residency requirements, financial need, etc.
Selection Process – The Foundation office works directly with the Financial Aid office to ensure we have the maximum impact in assisting students who need help paying for college. In the selection process, we closely follow the criteria you established.
Funding your Scholarship – When you create an endowed scholarship, the gift you provide establishes the 'corpus', or principle, of the gift. Your gift is then invested and a portion of the income is used each year to fund scholarships for the students. The remaining income is deposited back into your scholarship fund in order to grow the scholarship. You can fund and grow your scholarship through yearly giving, one-time gifts, memorials, life insurance, stocks/bonds, trusts, estate bequests, or a host of other methods. Giving can continue yearly beyond when it is first established.
Good Stewardship – As part of our efforts to be good stewards, and encourage our current students to one day consider giving back, we require all students receiving scholarships from the Cowley College Foundation to send a personal thank you to the donor who established the scholarship. They are also asked to attend the annual Foundation Scholarship Reception.
Scholarship Reception – Each year we host an annual reception where we invite scholarship recipients and donors to have the opportunity to meet one another. It is an excellent way for you to meet the individual whose life your gift has impacted and creates a greater sense of connection for the student.
Interested in Establishing a scholarship?
Reach out to the Cowley Foundation Team using the form below.